We live in a world full of challenges, some of them manageable and some seemingly intractable.
Among the challenges that we face is the existential challenge of Climate Change.
We all suffer from its effects, and we all must change our consumption patterns and personal habits to ensure that the challenge can be met successfully and soon, before Climate Change permanently challenges our very existence.
Governments must provide the leadership to reduce each country's carbon footprint and make the structural changes required to meet Paris Agreement goals.
The Paris Agreement, passed in 2015, calls for limiting global warming increases to less than 2%, preferably 1.5%.
Absent this, we can look forward to more severe weather patterns, stronger and more frequent storms, and alternating period of flooding and drought that will affect the production of food, transportation networks, and take thousands or millions of lives annually.
It is a landmark in the multilateral climate change process because, for the first time, a binding agreement brings all nations into a common cause to undertake ambitious efforts to combat climate change and adapt to its effects.
But can governments do it alone?
Not in my opinion.
Governments tend to look inward, to protect their economies, maintain their electability, and protect what is called national sovereignty against foreign encroachment.
They must also deal with conflicting constituencies.
The private sector business community has its interests.
Its overriding goal is to maintain a political and social infrastructure that will allow it to prosper with the least amount of risk and the greatest return on investment.
While this is slowly changing as companies begin to pursue corporate social responsibility, the private sector and its political representatives, usually the more conservative political parties in any given country, tend to resist any attempts to introduce measures that control climate change and reverse it as these measures affect their bottom line.
Another constituency is civil society – those organizations that represent a group of people intent on promoting one or more core causes.
These organizations are often, but not always, bent on changing society to whet they conceive to be better – to achieve social goals that are often opposed to those of the private sector.
Individual governments must balance the demands of all of its constituencies in order to secure financing for political campaigns and obtain the necessary votes with which to govern. Absent this, its political aspirations will suffer in the short run.
Thus, their focus is often the short run gain of votes rather than the short run pain of restructuring the economy and society to meet the longer-term goals of pursuing environmentally friendly practices and programs.
Indeed, such dislocations can result in unemployment and economic uncertainty, both of which are anathema to most governments.
As well, good environmental stewardship has traditionally been seen as a goal of parties at the left of center.
Thus, it has often been politicized through the politics of fear by more conservative elements of society that view climate change as a hoax and anathema to their interests.
This can be observed in many countries with a few exceptions: for instance, former conservative Canadian Prime Minister Brian Mulroney is viewed historically as having been a very strong proponent of good environmental stewardship.
However, his conservative successors have not taken up the torch and they have fallen into the trap most conservatives adopt. One has only to view the climate change position of Republicans in the United States to understand that this issue divides s many people as it unites.
According to Carnegie Europe, the political momentum behind the transition is strong because the vast majority of Europeans, especially young ones, feel a sense of urgency to take action to prevent catastrophe.
But political obstacles will rise again as the EU starts to implement practical measures.
Indeed, clashing interests of member states, some of which still heavily depend on coal, and industrial lobbies raising concerns about international competitiveness and jobs have constrained the EU's ambitions.
Insufficient mechanisms for monitoring and compliance have handicapped the implementation of these policies.
In major petroleum and coal producing and consuming states, there is much opposition on the part of industry to change consumption patterns given the massive investment these countries have made in oil and coal extraction and the use of coal and oil to fuel industrial production as well as produce electricity for public consumption.
These are some of the political and economic obstacles facing us in many societies.
On an individual level, how many of us are willing to give up our cars in order to depend on public transportation to provide mobility? How many governments are willing to invest the trillions of dollars requires to transform energy infrastructures and provide individuals with viable alternatives to the status quo?
These are questions that governments ask themselves on a daily basis. So, while public opinion may be on the side of positive environmental stewardship, very often we as individuals continue to make poos choices as consumer.
These are the challenges that multilateral organizations like the United Nations and its specialized agencies face daily as they try to address the challenges posed both by climate change as well as the resistance to this man-made phenomenon from various sectors of global and national society.
What can they do?

They don't have the power to legislate or to sanction those governments that do not follow their guidelines or commit to U.N. objectives.
The only power that the U.N. has is moral suasion and persuasion.
This they do well.
They are in constant contact with the media who cover all of the U.N.'s climate change events, beginning with the Conference of Parties (COP) meetings that take place every year and where governments come together to discuss and decide.
The Global Compact brings together more than 20,000 private sector firms to recommend and adopt good environmental and social responsibility practices.
The Global Compact plays a strong convening role and provides a forum for progressive companies to plan and implement measures to meet the 2030 sustainable development goals.
The Secretary General also names special envoys on climate change – artists and public personalities like former New York Mayor Michael Bloomberg, Leonardo di Caprio, and Don Cheadle to name just three. The U.N. Special envoys have large followings, and they act as major public influencers on climate change.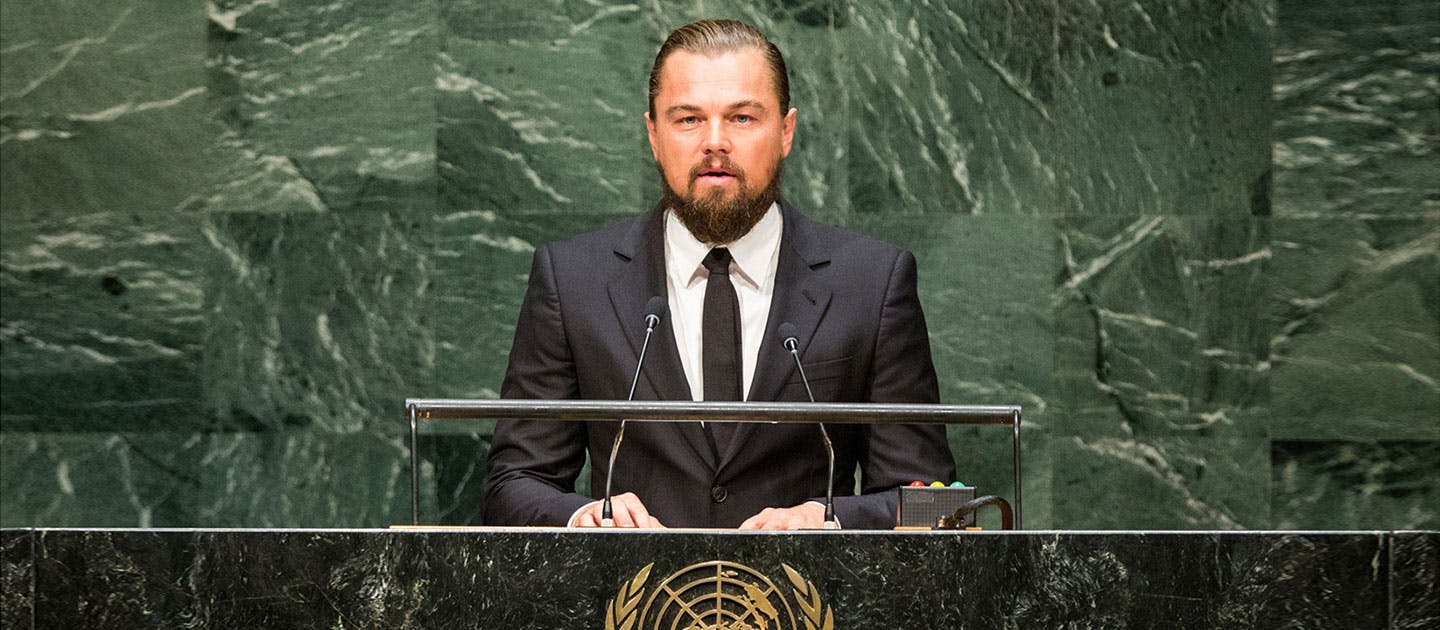 According to the U.N. website, governments, businesses and civil society members are connecting in climate initiatives to speed the pace of climate action. Initiated at the 2019 Climate Action Summit held at the United Nations, the initiatives are reducing emissions, tackling critical concerns such as jobs and gender equality, unlocking finance, building sustainable infrastructure, using nature-based solutions, and advancing adaptation and climate resilience.
The United Nations' role as a convener is needed more than ever to encourage people to collaborate, be ambitious and take actions required to limit global temperature rise to no more than 1.5 degrees Celsius. The United Nations also stands behind a transition to a sustainable, low-carbon economy that is just and beneficial for all people.
The United Nations website promotes good practices for both individuals and businesses, holds events around the world to sensitize people in sustainable climate management, and uses artists and major personalities in its ads, Facebook and twitter campaigns, and with mainstream media.
Thus, the United Nations is using social media effectively, making good use of celebrity spokespersons, and connecting with audiences young and old.
The problem is not in connecting with the general public. It is in getting the general public to pressure political leaders to adhere to international conventions and norms.
It is in getting the general public to shed old habits and adopt climate friendly ones.
It is to get governments to become responsive to the majority of. its citizens and not to special interest groups that unfortunately wield financial power over political parties and candidates as well as the media.
There is a need for a new class of political leadership independent of big business and big money, capable of galvanizing society into a more responsible management of the environment that we all share.
It is up to all of us to change and demand change from our political leaders and from ourselves.
Absent this, we will continue to teeter on the brink of existential disaster.
Eduardo is a former deputy spokesperson for Ban Ki-Moon.
He is an expert in public diplomacy.
---
The views and opinions expressed here are those of the author and do not necessarily reflect the official policy or position of CEIM. Any content provided by our bloggers or authors are of their opinion. The content on this site does not constitute endorsement of any political affiliation and does not reflect opinions from members of the staff and board.