At the close of last week's unsuccessful negotiations between Russia and Western powers over Ukraine, Russia's chief negotiator and Deputy Foreign Minister Sergey Ryabkov said that he wouldn't rule out the possibility of Russia's placing troops or military bases in Venezuela or Cuba.
Cuba is understandable. It has been an ally of the USSR and of the subsequent Russian Federation since the 1960's.
But how has Venezuela, long an ally of the West, been drawn into the Russian sphere of influence and as a possible host for a Russian military presence in the Americas?
In 1998 Hugo Chavez, a former paratrooper and coup leader, was elected President of Venezuela.
A self-styled revolutionary, he quickly began a process of dismantling the institutions of democracy in the country and concentrating power in his hands and in the Congress.
As in many authoritarian states, power was won democratically but the subsequent destruction of democratic institutions ensured the end of that democracy.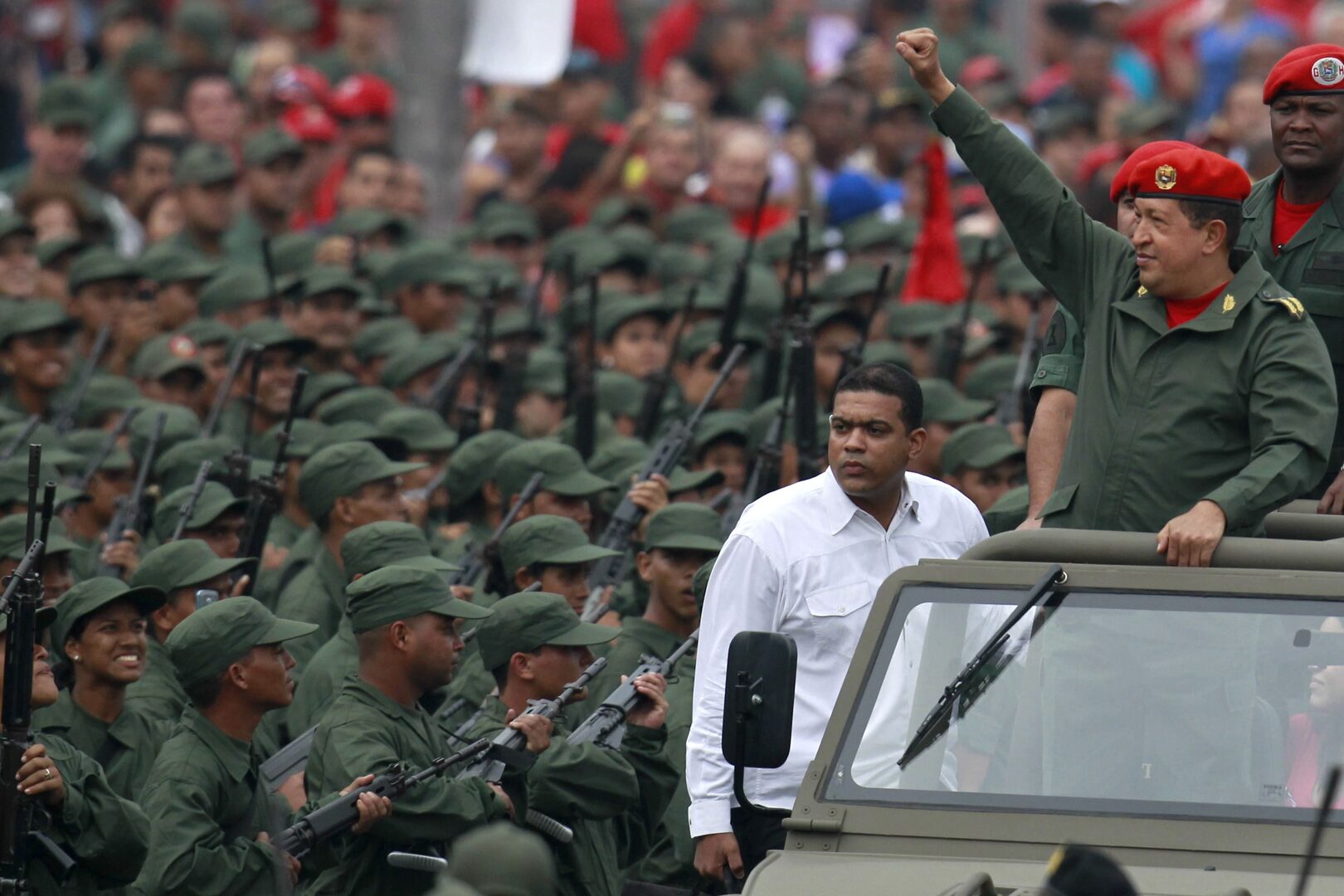 When Chavez assumed power, Venezuela was beset by massive corruption and great inequality.
The democracy, which in reality was a democratic oligarchy, had mismanaged the economy poorly.
Sadly, however, the arrival of Chavez increased corruption and cronyism under the guise of his so-called "Bolivarian revolution".
He used petrodollars (oil was at over US$100 per barrel at the time) to subsidize programs for the poor while allowing his family and cronies to amass huge fortunes.
Chavez quickly aligned himself with autocratic regimes around the world.
The Russians and Iranians became key allies, he opened the doors to Hezbollah to set up operations in Caracas, and almost made Venezuela a vassal state of Cuba´s – providing Cuba with subsidized or free oil in exchange for the services of Cuban medical staff and security and intelligence agents.
The latter provided Chavez with the wherewithal to control the opposition and weaken it, as well as provided him with an entrée to global radical groups.
Chavez died in 2013, leaving in his wake an economy that was in steep decline, a private sector that was dying a slow death, and a military class enriching itself through its management of major state companies.
This provided the regime with the loyalty of senior and midlevel officers who now had a vested interest in the survival of the regime.
This is a major strength of the Maduro regime and has guaranteed its survival over the longer term despite major popular demonstrations across the country.
His successor Nicolas Maduro lacks Chavez's charisma and vision, is poorly educated and seems to have a rather weak personality.
According to reports, real power is exercised by his wife Cilia Flores and a small group of civilians and military and intelligence officers who are determined to remain in power in perpetuity.
The opposition suffers from the traditional inability to come together and define a common platform under one leader in order to bring down this latest Venezuelan kleptocracy.
The historical major parties – Christian Democrat COPEI and Social Democrat Acción Democrática – fell apart soon after Chavez took office.
Today, opposition leaders appear more interested in winning internal power struggles than in winning general elections.
Latin American democracies have been incapable of pressuring democratic change in Venezuela from the outside, and internally, the opposition congress and its president Juan Guaido have lost all credibility since he has been unable to unite the opposition into an effective electoral force. Indeed, the so-called Lima Group of hemispheric democracies has been unable to bring Maduro to heel, and its fortunes have changed with the election of governments in Mexico, Peru, and Bolivia that are sympathetic to Maduro and his regime.
Protests have been put down violently and opposition leaders have been jailed.
Over five million Venezuelans have fled the country and have created a major refugee headache for the region.
Ironically, Venezuela was a major haven for refugees from other Latin American countries fleeing repressive regimes in the seventies and eighties. Now the shoe is on the other foot.
Using its deep relationship with Venezuela and their shared enmity with the United States, the Russians are attempting to make the U.S. see things from their point of view. Russia feels surrounded by the United States and its NATO allies, and the possibility of Ukrainian membership in the organization is seen as a threat to President Putin's goal of recreating a strong and wide Russian security zone of influence.
The Russians tried this approach in the sixties when they temporarily placed nuclear missiles in Cuba and got the U.S. to remove Jupiter missiles from bases in Turkey near the Soviet border.
Putin is a student of history and is not beyond using tactics from the past to accomplish his goals today.
So, this, together with the added gamble that the West has little desire for war over Ukraine gives Russia what appears to be a strong hand in its negotiations.
What's more, the Trump administration's decision to weaken NATO and President Biden's limited success in bringing the Alliance back up to snuff have divided the Alliance significantly.
Germany and other European states are heavily dependent on Russian gas to fuel industry and heat homes and appear to lack the trust in U.S. leadership what they had in the past…
It may be strategic indeed for Putin to raise the temperature during the winter months, when the threat of cutting off gas supplies could paralyze European leaders.
Returning to Venezuela, ten years of foreign attempts to overthrow Maduro and his regime have thus far come to naught, and the Russians have stood by his side through thick and thin.
As a result, it appears that Venezuela will continue to be an economic basket case and that Venezuelans will continue to suffer the consequences since it is unlikely that anyone will come to the rescue.
And Russia will be there to back the regime as it plays out its geopolitical brinksmanship with the West.
Eduardo is a former deputy spokesperson for Ban Ki-Moon.
He is an expert in public diplomacy.
---
The views and opinions expressed here are those of the author and do not necessarily reflect the official policy or position of CEIM. Any content provided by our bloggers or authors are of their opinion. The content on this site does not constitute endorsement of any political affiliation and does not reflect opinions from members of the staff and board.